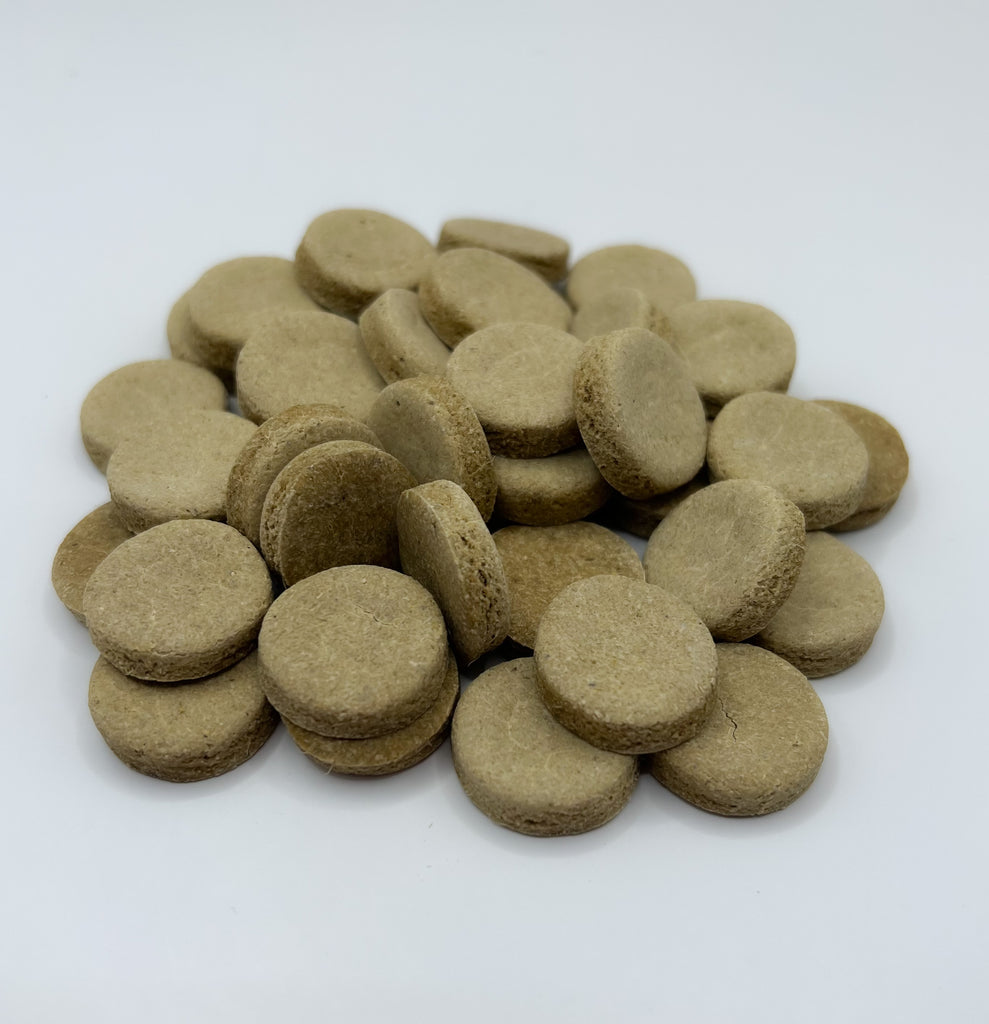 Bedtime Calming Macarons
INGREDIENTS:
Organic Oat Flour, Apples, Chamomile, Lavender
Perfect treats that may help calm your furry babies down in the event of a vet appointment, car rides, traveling, or simply as a bedtime snack!

✨ We have many size options available:

Sample: 10 Pack
Small: 16 Pack
Medium: 33 Pack
Large Pack: 60 Pack

100% Organic Fruits
No Added Sugars
No Added Coloring
No Preservatives 

NO NASTIES: All of our treats are handmade with all organic ingredients containing as little as oats/hay + fruit veggies. We do not add any added ingredients in any of our products. The coloring of each treat is due to the beautiful colors that the fruit and veggies create.

SAFE FOR: Rabbits & Guinea Pigs. Our treats may be safe for other small pets to consume however, we strongly recommend speaking directly with a vet expert before giving our treats to other species.

FEEDING INSTRUCTIONS: You may feed 1 daily per 5 lbs body weight.

✨ We bake and dehydrate all treats slowly to ensure the highest nutrients and flavor in each treat. Each batch is made to order to ensure you are receiving freshest product.

Size of Bunny Macarons: Approximately the size of a Quarter.

STORAGE: You may keep in the same bag I provide; however it is recommended to keep in an air tight jar. Store in a dry, cool area away from sunlight to ensure quality and freshness.

CAUTION: Serving size is for the average healthy rabbit, you know your rabbit more than anyone else, so please if your rabbit is having health issues including: poopy butt, diarrhea, etc please consult with a vet before giving treats as you should have a proper diet set up. Always remember, anytime you add anything new into your fur babies diet, you are going to want to introduce it to them slowly to see how your your baby reacts to it, if everything goes well you can slowly increase it but keep in mind of the serving size. Everything should always be in moderation. All our treats are recommended at the age of 6 months.

Some treats may be lighter/darker or thinner/thicker than pictures shown - We do our best to make the same sizes and colors but some may be different from shown above however, satisfaction is guaranteed :)

Thanks for shopping at FluffyBunConfections!

If you have any questions please do not hesitate to contact us via Etsy, or email us at FluffyBunConfections [!at] gmail.com - We will do our best to respond within 24-48 hours.

🚨 Please check out our FAQ before ordering. We answer many questions there. ☺️
Bedtime Calming Macarons
Alice and Miss Cream love the calming macarons. Definitely makes them more calm at night.
My buns love these!
I tried these for the first time, and all 6 of my bunnies gobbled them right up. I use them as a bedtime treat.
Bedtime Calming Macarons
My rabbit loves the macarons! She started acting up at night just to get them! They work too, she falls asleep soon after!