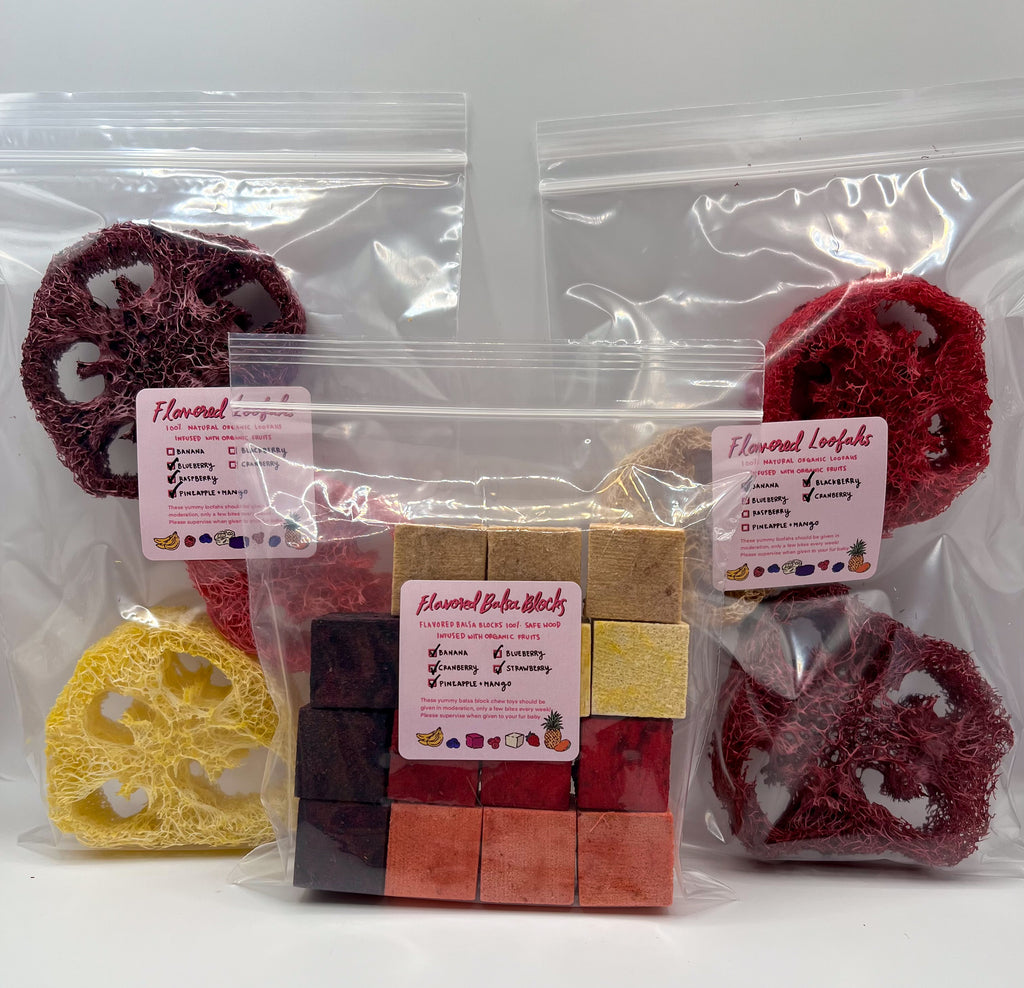 Flavored Balsa Blocks and Loofahs
‼️ Includes all flavors on our shop!‼️
This bundle includes all of our flavors of loofahs and balsa blocks. 😁 what you see pictured is exactly what you'll get. This is the perfect bundle to get if you're not sure what flavor to get and to have your bunny experience with more flavors.
Comes with all 6 Loofah Flavors and a 15 pack of Balsa block flavors (you'll receive a 3 of each flavor.)
Size of blocks: 1x1x1 (inches)
Balsa blocks are completely safe and actually one of the softest woods for bunnies. We soak them in blended fruit making them yummy chew toys for your babies.
We use 100% Organic Fruits
INGREDIENTS:
100% Natural Organic Loofah
Flavors:
🍌 Banana
🍇 Blackberry
🍇Cranberry
🍇 Raspberry
🫐 Blueberry
🥭 Mango & Pineapple🍍
Balsa Block Flavors:
🍌 Banana
🍇Cranberry
🍓 Strawberry
🫐 Blueberry
🥭 Mango & Pineapple🍍
All Loofahs are soaked and washed, and Loofah seeds are all taken out.
All loofahs are different sizing as they are home grown, and during the dehydration process they do tend to slim down.💚
Monitor your furry babies while the use of loofah and only give a little at a time.
Loofahs are recommended at 6 months old.
Please always supervise with toys, and do not let them chew all at once. Should be given only for a couple minutes or so. :)
Here at FluffyBunConfections we are committed to 100% satisfaction guaranteed.
Thanks for shopping at FluffyBunConfections!
If you have any questions please do not hesitate to contact us via Etsy, or email us at FluffyBunConfections@gmail.com - We will respond within 24 hours.
I am not response for lost/stolen packages. I will not replace or refund lost or stolen packages. Please read my shops policy. Feel free to contact me with any questions.
🚨 Please check out our FAQ before ordering.
My picky bunnies love 'em!
They love the loofahs especially, its such a delight to hear them chewing away. They immediately swarm them when I place one near them, its super cute. Packaged well and neatly, your critters will love them too! :)