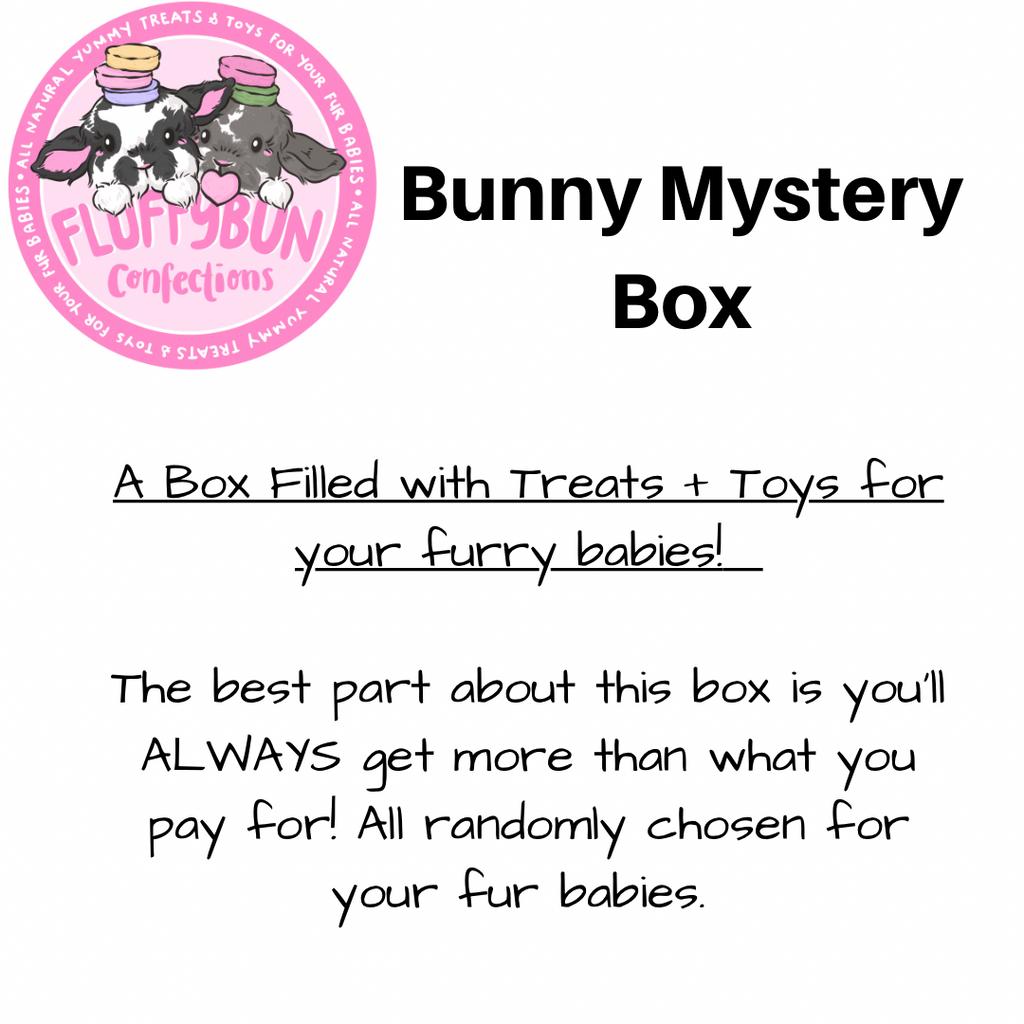 What is a mystery box you ask? 👀
* IMPORTANT: If you order a mystery box during a sale, you will not get extra items as it's highly discounted during our yearly sales*
A mystery box is filled with random treats, toys and other special items for your fur baby. The best part about this is you will always get more than what you pay for!
The small box offers about 3-4 items 
Medium includes 4-6 items 
and so on…
The larger the box, the more products. 

Please note the box is completely a surprise, sometimes you get more treats then toys and so on. With a small mystery box there's a small cushion, so if you'd like more of a variety then please do order a larger box. 
This box is for the bun moms that LOVE surprises☺️💗
Boxes can range from anything on our shop or some new stuff we create, toys, anything.. however, it will stay a secret 🤫
In the notes please make sure to write how old your bunny is so we can know what to put in the box, and if your bunny is picky with a specific flavor please let us know.
No discounts can be used on our Mystery Boxes.
Please always read our FAQs before purchasing from our shop!
I am not response for lost/stolen packages. I will not replace or refund lost or stolen packages. Please read my shops policy. Feel free to contact me with any questions.
- Lisa
FluffyBunConfections
2 Happy Buns
The bunnies are loving all the treats and they're super cute!
Love the variety!
My favorite thing to get is the mystery box! My bunny has loved everything and it's such a great deal. I have a hard time deciding what to get sometimes and that takes care of it.
Wonderful!
This was my first order and my bunnies fully approve. Everything was packages and labeled neatly, shipped quickly and apparently taste like heaven on earth!
Cute treats!
It's so fun getting a surprise box for our bunnies. The treats last quite awhile since they just get a little at a time. This was our 2nd time getting the mystery box.
Amazing products
Every mystery box is amazing. My rabbits love everything that is sent each time. 😊